Grandfather forced to pay for treatment after surgery denied due to Covid-19
Grandfather forced to pay for treatment after surgery denied due to Covid-19
A grandfather has told how he would have been left disfigured after health chiefs said they could remove his cancer but not carry out reconstructive surgery because of the Covid-19 crisis.
John Price (69) said he was instead forced to borrow £50,000 for private treatment and called last night for others in similar situations to "demand to be treated".
It was following a trip to the dentist in March that the former head of art at St Louise's College on Belfast's Falls Road was informed he had a form of oral cancer.
A growth removed by a dentist resulted in a diagnosis of Squamous Cell Carcinoma (SCC).
At an appointment at the Ulster Hospital, he was informed that his cancer was "very aggressive" and surgery would be needed quickly.
Mr Price, from Lambeg near Lisburn, was told the best option was for the tumour to be removed and his jaw reconstructed.
However, on March 23 he said he received the devastating news that the offer of surgery and reconstruction had been withdrawn due to the Covid-19 pandemic, with concerns around Personal Protection Equipment (PPE) cited.
When he asked for a second opinion, Mr Price said he was told the surgery could not proceed because "they weren't giving ventilators to cancer patients".
With time running out, he said the only option was for the tumour to be removed but with no reconstruction.
Mr Price said he was informed this would leave him with "fairly significant facial disfigurement" as well difficulties with eating and speech.
The artist said he was told his "jaw would just be left hanging".
"I was numb when I heard it," he said.
"It was very difficult to be able to absorb. The fact they offered the gold standard and I was told this was the one for me, the best for me, and then to be told they were not offering it to me. They were doing this and I would be left with severe disfigurement.
"It was distressing for me and my family. There were no good choices for me."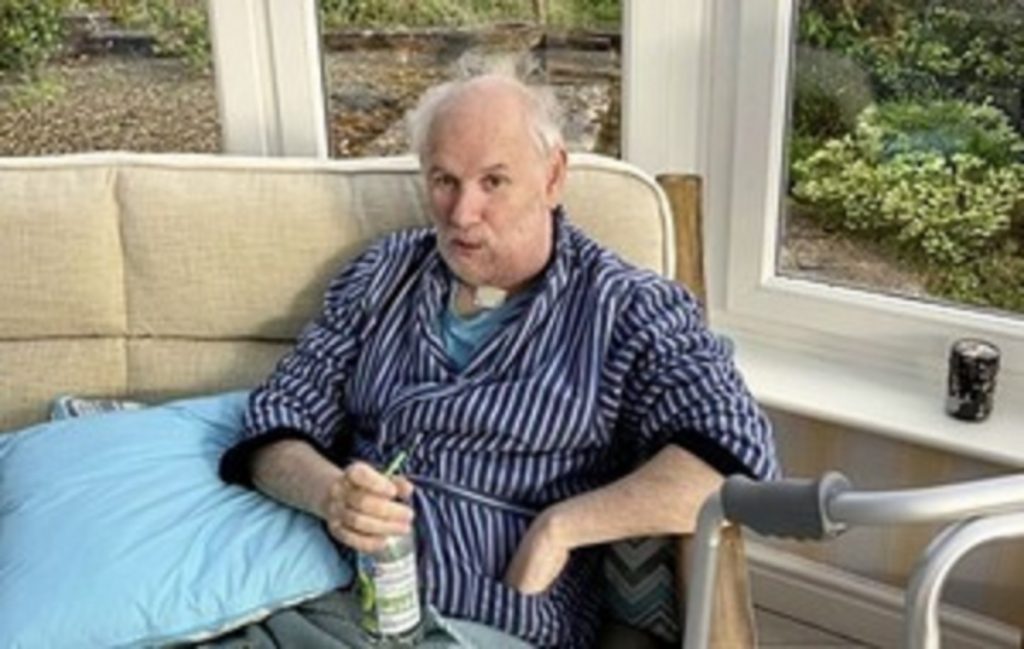 Unsure where to turn for help, Mr Price's sister tracked down a private consultant in London who told the father-of-three there was no issue performing the surgery and reconstruction but it would cost £50,000.
A socialist all his life and opposed to private healthcare, he said his family persuaded him to agree but he felt the NHS had "left me with no choice".
The grandfather and his family were then left to borrow the funds "very quickly" and after travelling to London, he underwent his seven-hour surgery and reconstruction at Bupa Cromwell Hospital on April 18.
Released from hospital on April 28, he is now recuperating with family in England and is due to return home later this month.
Mr Price, who retired from St Louise's nine years ago after 34 years' service, said the whole experience had been "surreal".
However, he said he vowed if he survived the cancer and the operation he would "seek a day of reckoning on behalf of other people".
"The idea of focusing everything on Covid and forgetting all other treatments, there has to be an accountability," he said.
"I applaud the NHS, no question about it. In this instance, it is because of my family and friends only that I managed to get the surgery and it was with great reluctance I have had to go outside the NHS but there was no alternative.
"For other people and cancer patients who are in this situation, they should not be denied their treatment. This is terrible."
Mr Price said it is his hope that other families will read about his experience and be inspired to "insist upon getting the treatments".
"Bring whatever pressure has to be brought," he said.
"They have no right to deny people NHS treatments. People don't have to undertake this themselves. You are not alone – stand in solidarity. We are the NHS, take ownership of it. Demand to be treated. It is your right".
A spokeswoman for the South Eastern Health & Social Care Trust said it had "followed national guidelines issued on 17 March 2020 to UK Head and Neck Multidisciplinary Teams by the British Association of Head and Neck Oncologists".
She said these provide "guidance for head and neck cancer services during the Covid-19 pandemic".
"These guidelines advocate wide local excision without reconstruction to include restriction/cessation of surgical procedures requiring post-operative HDU/ICU care.
"The South Eastern HSC Trust cannot discuss individual cases due to confidentiality but would like to reassure that adequate PPE and postoperative HDU/ICU is available where considered necessary.
"The trust is happy to meet with Mr Price and his family should he wish to discuss further."
Source: The Irish News Author: Marie Louise McConville
Support a family fighting financial toxicity of cancer – here.