Financial Toxicity and the Quest for Survival: A True Oral Cancer Story
Financial Toxicity and the Quest for Survival: A True Oral Cancer Story
Diagnosed with Oral cancer, Violet's family suffers from Financial toxicity as a result of her illness. Her quest for survival is very strong. Read her full story below.
Actually it started as a tiny little mouth thrust on the lower lips and upon several fungi antibiotics and herbal medicines, the growth kept increasing/spreading. At this stage, doctors were saying its fungi infection and I was placed on several fungi antibiotics. Months later I was asked to go do a biopsy and it tested positive for squamous cell carcinoma. Due to late detection, I was immediately asked to go in for surgery and chemotherapy.
Surgery & Re-occurence
August 2017 I had major and minor surgery, excision of the affected area and immediate reconstruction using a DP flap with soft tissue from my chest, arm, and lower abdomen. A week after the surgery there was re-occurrence, the tumor had already spread to the lower gum. Went in for chemotherapy in Douala and instead of tumor shrinking it instead kept increasing in size, teeth were falling off. Was immediately taken to Big Mbingo Kom, was bleeding severely and was constantly on blood transfusion.
Had another major surgery according to the doctors the only way to stop the excessive bleeding and tumor from spreading was to undergo surgery so I had composite resection of the lower mandible tumor ( ¾ of my lower jaw bone, gum, and teeth was removed). A sample of what was removed was later sent to the laboratory for testing and the histopathology report was negative for cancer tumors. And I was then certified free from the disease and could go in for another reconstruction. Several attempts made to get the reconstruction done here failed so I was advised to go to Nigeria since Nigeria is medically more advanced than Cameroon.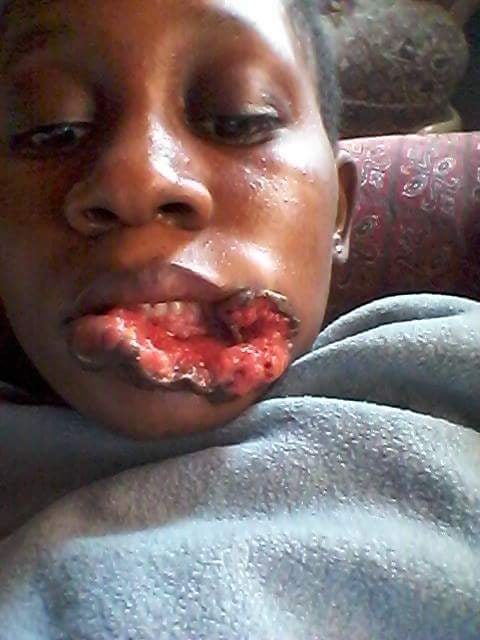 18 hours of Unsuccessful Reconstructive Surgery
September 2018 I had major and minor surgeries in Nigeria, Lagos State University Teaching Hospital (LUTH) it was an 18 hours reconstructive surgery where the bone was transplanted from my left leg to the lower jaw and soft tissue from my left thigh and chest. Barely a month after the horrible surgery which left me completely damaged the doctors told us (mom and I) that the surgery wasn't successful, the bone which was transplanted from leg to lower jaw didn't survive. The bone died due to insufficient blood supply so the entire reconstruction failed.
Effect of Wounds and Scars
I had wounds and scars almost all over my body, I couldn't walk with the left leg for weeks, I couldn't eat or drink, talk more of the terrible pains and horrible experience I had to endure yet surgery wasn't a success. I had to go back to surgery to remove the dead bone and we returned back home worse than how I left for Nigeria.
Surgical Errors and Recommendation for Evacuation Overseas
There's this oncologist, Dr. John that I visit regularly for a medical check-up at Mount Mary Hospital Buea when we came back from Nigeria I explained everything to him and all the experience I had in Nigeria. He said surgery like mine can best be done in India or Morocco since it has to do with a bone reconstruction and a lot of damages have been done as a result of the errors from the previous surgeries. We made enquiries from two top hospitals in India and surgery/treatment cost 15Million frs. I tried talking and reaching out to every NGOs and Organizations I come across on Facebook but got no positive response.
To support Violet with her need for better treatment please donate to her campaign by clicking here: Violet_support