Young adult breast cancer: fight, life and outreach.
Young adult breast cancer: fight, life and outreach.
In December 2018, I was diagnosed with Stage 3 breast cancer. I remember the day I found out about this "dreaded" diagnosis at such a young age of 34. I was terrified, I cried. I saw death! How was this possible, I thought. I had no known history of breast cancer in my family.

Over the years I have been eating relatively healthy. I wasn't overweight. How then?? Why? I wondered, but never got an answer back.

My clinical team and treatment options
My clinical team recommended a treatment course which spanned across several months. In February 2019, I started Chemotherapy and finished on July 8th. A month later, I had surgery. My scars are still visible, reminding me of my yesterdays and how long I have come and still to go. In October 2019, I had radiation therapy. My body feels different and I am more hopeful than ever as I look to my last treatment – immunotherapy, to be completed in February 2020.
The journey thus far has not been the easiest but I have refused to let cancer hold me back, I have opted to DARE TO LIVE – to fight this head on.
The Dare2Live inspiration
PURPOSE… "Dare to live" is a phrase that I wrestled with over the past many months. It tossed around my mind as I sat through chemo, session after session. I believed my answer to that was my determination to share my journey with as many people as I can. To inspire as many as I can, to use my journey as a torch not only to shine a light on the way towards fulfillment but also as a symbol of optimism, faith and above all hope. This cannot go without my mention of breast cancer awareness to all who come across my path.
My journey's mirror
Over the years as I shared my pain, my difficulties and changes in my quality of life, I became exposed to the problems other breast cancer patients and survivors face.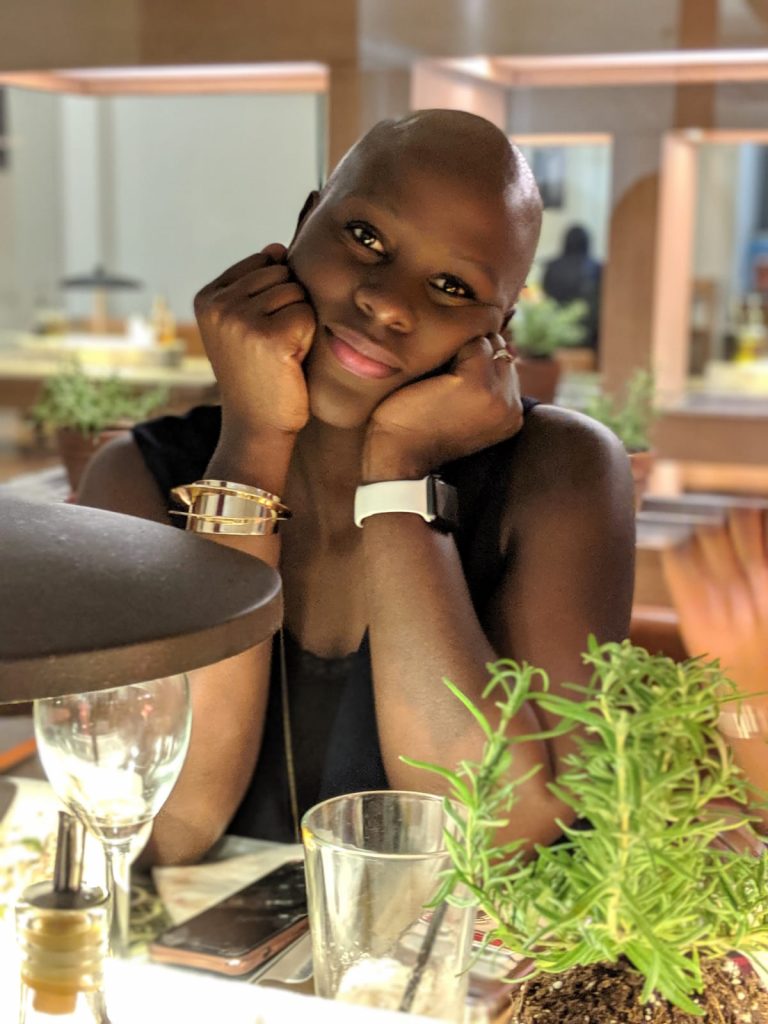 Having been born and raised in Cameroon. I wondered many times the challenges faced by breast cancer patients. I heard stories before but now as a patient and a survivor, I very well picture their pain especially with specialized care not available.

My journey's realizations
I realized that women in Cameroon and most African countries facing similar medical situation as I am, do not have the resources to improve their quality of life while fighting breast cancer. Many of these breast cancer patients and survivors lack the necessary resources to make this painful journey a little bearable. Resources such as medications, transportation to treatments and even beauty items such as wigs, caps etc are all not easy to find or have.

In my journey, knowing what breast cancer patients in developing countries such as Cameroon experience daily, I count myself fortunate to have received excellent care. I found that irrespective of the resources, one can put in place in these countries, there is a dire need to create breast cancer awareness at both grassroots and national scale.
The birth of Dare2Live with Anjoh Foundation
As I went through each chemo session; from one infusion chair to the other, as I gazed at my surgical scars, and as I go through each radiotherapy treatment submitting my life to the mercy of radiation beams, I was putting together the ideas of a brand new movement to help young women both in the US and in Cameroon. By the time I got to ring that bell after my last radiation treatment, it was all clear to me….the birth of Dare to Live with Anjoh Foundation. What started as a dream from my first infusion chair is now a reality that was launched on October 5th, 2019.

Just dare…
The journey has been real, my road has been steep, there is a long way still to go ..but hey…we all have to dare to live…I am daring to live! What about you?
Akwi Fon-Ndikum Founder/CEO DARE TO LIVE FOUNDATION
"If you don't like something, change it. If you can't change it, change your attitude"
Support Dare2Live's campaign – here