A Few Examples of the Cost of Cancer Treatment
A Few Examples of the Cost of Cancer Treatment
The financial impact of cancer can be devastating. Here we hope to provide you with a few examples to give you insights for better financial and health insurance planning.
Here are few examples of common treatments and their cost:
A solid insurance plan will pay the majority of the costs outlined above but there are still substantial out of pocket expenses. These graphs show you the out of pocket expenses for the two examples above: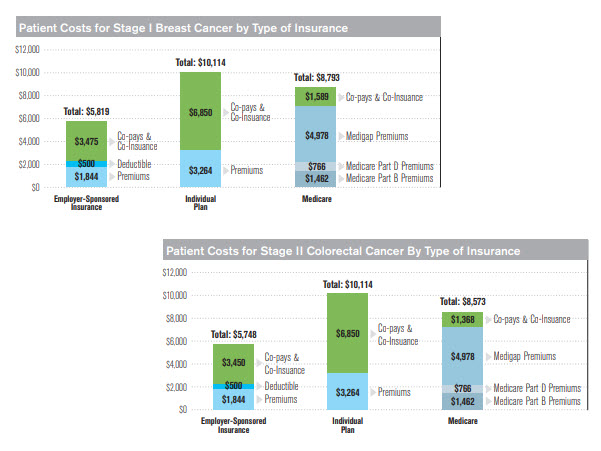 American Cancer Society Cancer Action Network, The Costs of Cancer, April 2017, https://www.fightcancer.org/sites/default/files/Costs%20of%20Cancer%20-%20Final%20Web.pdf
Many breast cancer patients choose a double mastectomy and reconstructive surgery to minimize the risk of cancer recurrence. One example of the cost to a 55 year old patient was $120,000. Her out of pocket co-pays and insurance premiums were $25,000[vii].
Our hope with this article is not to scare you but prepare you. There are people who can help. Many hospitals have counselor on staff called Financial Navigators. Their job is to help guide you to the right insurance, government programs and more.
Some important things to make sure you are clear on while you are healthy and can plan:
What type of insurance coverage do you have?
Premium amount
Deductibles for various treatments, doctors & physicians
Co-payment or Co-pay fees
Co-insurance
Out-of-Pocket Maximum or Cap
We all hope we aren't affected by this terrible disease. Solid life planning and research about health insurance can be a good use of time, just in case.

---
[i] How Much Does Chemotherapy Cost?, Steve Nicastro, NerdWallet Health, https://www.everydayhealth.com/news/how-much-does-chemotherapy-cost/
[ii] How Much Does Chemotherapy Cost?, Steve Nicastro, NerdWallet Health, https://www.everydayhealth.com/news/how-much-does-chemotherapy-cost/
[iii] How Much Does Chemotherapy Cost?, Steve Nicastro, NerdWallet Health, https://www.everydayhealth.com/news/how-much-does-chemotherapy-cost/
[iv] How Much Does Chemotherapy Cost?, Steve Nicastro, NerdWallet Health, https://www.everydayhealth.com/news/how-much-does-chemotherapy-cost/
[v] American Cancer Society Cancer Action Network, The Costs of Cancer, April 2017, https://www.fightcancer.org/sites/default/files/Costs%20of%20Cancer%20-%20Final%20Web.pdf
[vi] American Cancer Society Cancer Action Network, The Costs of Cancer, April 2017, https://www.fightcancer.org/sites/default/files/Costs%20of%20Cancer%20-%20Final%20Web.pdf
[vii] AARP The Magazine, The High Cost of Cancer Treatment, Peter Moore, June 1, 2018, https://www.aarp.org/money/credit-loans-debt/info-2018/the-high-cost-of-cancer-treatment.html